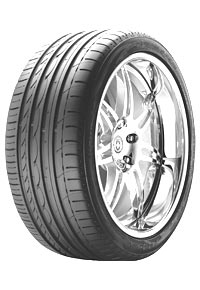 Yokohama ADVAN Sport Z.P.S
Key Features
Quieter Ride
Handling
Wet Traction
Resistance To Wear
RunFlat
Outboard Shoulder Zone-provides improved handling and reduces ride noise.
Nanotechnology Tread Compound-increases flexibility, durability and contact area for better wet and dry traction.
Variable Rounded Grooves-prevent one-sided abrasion and maximize performance on wet surfaces. Four Wide Circumferential Grooves-quickly and efficiently evacuate water for enhanced wet traction.
Groove-In-Groove Configuration-controls stress to improve handling and promote even wear.
Unique Sidewall Reinforcement-is an original low-heat-generating compound designed to support your vehicle's weight during runflat operatioon. Supportive Bead Filler-delivers a comfortable ride at normal operation and high rigidity under zero pressure conditions. Durable Bead Wire-is extra-thick bead wire placed in a hexagonal arrangement, which allows for easier fitting to the rim and reduces the risk of bead unseating after the loss of air pressure.
Vehicle Category: Passenger
Performance Category: Performance Summer
Contact Us About This Tire
13 Available Sizes
Size
Load/Speed Index
Run Flat?
Overall Diameter
Load Range
Price
16"
195/55R16
87V
24.40"
-
205/55R16
91W
24.90"
-
225/50R16
92W
24.90"
-
17"
205/45R17
84V
24.30"
-
225/45R17
91Y
25.00"
-
225/50R17
94Y
25.90"
-
245/45R17
95Y
25.60"
-
255/40R17
94Y
24.90"
-
18"
225/40R18
88Y
25.00"
-
245/40R18
93Y
25.60"
-
245/50R18
100W
27.60"
-
255/35R18
90Y
24.90"
-
275/35R18
95Y
25.50"
-