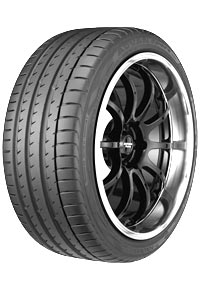 Yokohama ADVAN Sport V105
Key Features
O.E. HANDLING
O.E. GRIP
QUIET RIDE
LONG TREAD LIFE
Matrix Rayon Body Ply construction for precise handling when you need it.
Sport Compound with asymmetric tread design for tremendous wet and dry grip.
Specially designed multi-pitch sipes prosvide a quiet ride.
A stable, solid rib design and new tread compound provide longer treadwear.
Vehicle Category: Passenger
Performance Category: Performance Summer
Contact Us About This Tire
15 Available Sizes
Size
Load/Speed Index
Run Flat?
Overall Diameter
Load Range
Price
16"
195/50R16
84V
23.70"
-
17"
225/45R17
91W
25.00"
-
225/50R17
94W
25.90"
-
245/40R17
91W
24.80"
-
18"
225/45R18
95Y
25.90"
XL
245/40R18
97Y
25.70"
XL
19"
235/40ZR19
92(Y)
26.40"
-
245/40ZR19
98(Y)
26.80"
XL
275/35ZR19
100(Y)
26.60"
XL
275/40ZR19
105(Y)
27.50"
XL
20"
245/35ZR20
95(Y)
26.70"
XL
255/40ZR20
101(Y)
28.20"
XL
275/30ZR20
97(Y)
26.40"
XL
275/40ZR20
106Y
28.70"
XL
22"
285/35ZR22
106(Y)
29.90"
XL