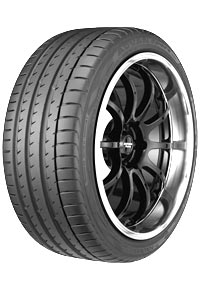 Yokohama ADVAN Sport V105
Key Features
Resistance To Wear
Wet Traction
Handling
Quieter Ride
Sport Compound 5S-provides long treadwear and wet grip. Orange Oil Compound-is our most durable high-performance compound ever.
Sport Compound 5S-enhances road surface adhesion in wet and dry conditions. Increased Groove Area-on the inner portion maximizes wet performance.
Matrix Rayon Body Ply-increases and enhances rigidity and enhanced steering precision. Sport Compound 5S-enhances traction with its high-grade micro silica.
Multi-Pitch Tread Design-separates tread blocks into different sizes and shapes for a quiet ride.
Vehicle Category: Passenger
Performance Category: Performance Summer
Contact Us About This Tire
92 Available Sizes
Size
Load/Speed Index
Run Flat?
Overall Diameter
Load Range
Price
16"
195/50R16
84V
23.70"
-
205/55R16
91V
25.00"
-
205/55R16
91W
25.00"
-
225/50R16
92V
25.00"
-
225/50R16
92W
25.00"
-
17"
205/55ZR17
91Y
25.80"
-
215/45R17
91Y
24.60"
XL
225/45R17
91W
25.00"
-
225/45ZR17
94Y
24.90"
XL
225/50R17
94W
25.90"
-
225/55ZR17
101Y
26.70"
XL
235/45ZR17
97Y
25.30"
XL
235/50ZR17
96Y
26.30"
-
245/40R17
91W
24.80"
-
255/40ZR17
98Y
25.00"
XL
18"
215/40ZR18
89Y
24.70"
XL
225/40ZR18
92Y
25.10"
XL
225/45R18
95Y
25.90"
XL
225/45ZR18
95Y
26.00"
XL
225/60R18
104W
0.00"
XL
235/40ZR18
95(Y)
25.40"
XL
235/45ZR18
98(Y)
26.30"
XL
235/50ZR18
101Y
27.20"
XL
235/60R18
103V
29.30"
-
245/35ZR18
92Y
24.80"
XL
245/40ZR18
97Y
25.70"
XL
245/40R18
97Y
25.70"
XL
245/50ZR18
104(Y)
27.70"
XL
255/35ZR18
94Y
25.00"
XL
255/40R18
99Y
26.10"
XL
255/45ZR18
103Y
27.10"
XL
265/45ZR18
101(Y)
27.30"
-
275/35ZR18
99(Y)
25.60"
XL
275/45ZR18
107(Y)
27.80"
XL
285/35R18
97Y
25.90"
-
19"
225/35ZR19
88Y
25.20"
XL
225/40ZR19
93(Y)
26.20"
XL
235/35ZR19
91(Y)
25.50"
XL
235/40ZR19
92(Y)
26.40"
-
235/40ZR19
96(Y)
26.50"
XL
235/45ZR19
95Y
27.30"
-
235/55R19
101V
29.30"
-
245/35ZR19
93(Y)
25.80"
XL
245/40ZR19
98(Y)
26.80"
XL
245/40ZR19
98(Y)
26.70"
XL
245/45ZR19
98Y
27.80"
-
245/45ZR19
98Y
27.80"
-
245/50R19
105W
28.70"
XL
255/30ZR19
91(Y)
25.10"
XL
255/35ZR19
96(Y)
26.10"
XL
255/40ZR19
100(Y)
27.10"
XL
255/45ZR19
100(Y)
28.00"
-
265/30ZR19
93(Y)
25.40"
XL
265/35ZR19
98(Y)
26.30"
XL
265/40ZR19
102(Y)
27.40"
XL
275/30ZR19
96(Y)
25.60"
XL
275/35ZR19
100(Y)
26.60"
XL
275/35ZR19
100(Y)
26.60"
XL
275/40ZR19
105(Y)
27.80"
XL
275/40ZR19
105Y
27.50"
XL
285/30ZR19
98Y
25.80"
XL
285/35ZR19
99(Y)
26.80"
-
285/40ZR19
103(Y)
28.00"
-
295/30ZR19
100(Y)
26.10"
XL
295/35ZR19
104(Y)
27.00"
XL
305/30ZR19
102(Y)
26.30"
XL
20"
225/35ZR20
90(Y)
26.30"
XL
235/35ZR20
92(Y)
26.50"
XL
245/30ZR20
90(Y)
25.90"
XL
245/35ZR20
95(Y)
26.70"
XL
245/35ZR20
95(Y)
26.80"
XL
245/40ZR20
99(Y)
27.70"
XL
255/30R20
92(Y)
26.10"
XL
255/30ZR20
92(Y)
26.10"
XL
255/35ZR20
97(Y)
27.10"
XL
255/40ZR20
101(Y)
28.20"
XL
265/30ZR20
94(Y)
26.30"
XL
265/35ZR20
99(Y)
27.30"
XL
265/40ZR20
104Y
28.30"
XL
265/45R20
108Y
29.40"
XL
275/30ZR20
97(Y)
26.60"
XL
275/30ZR20
97(Y)
26.40"
XL
285/25ZR20
93(Y)
25.60"
XL
285/30ZR20
99(Y)
26.90"
XL
295/30ZR20
101(Y)
27.10"
XL
305/30ZR20
103Y
27.30"
XL
21"
265/40R21
105Y
29.30"
XL
275/40R21
107Y
29.60"
XL
275/45R21
110W
30.80"
XL
315/35R21
111Y
29.60"
XL
22"
285/35ZR22
106(Y)
29.90"
XL
23"
305/35R23
111Y
31.50"
XL