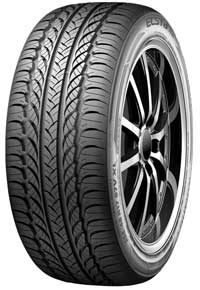 Kumho Ecsta PA31
Key Features
Heavy sipe density and large cross grooves expel water quickly, improving snow and wet weather handling.
The directional tread design is shaped to avoid uneven wear and delivers excellent steering, cornering and braking in all-season conditions.
The variable pitch shoulder blocks reduce road noise throughout the life of the tire.
Vehicle Category: Passenger
Performance Category: Performance All Season
Contact Us About This Tire
15 Available Sizes
Size
Load/Speed Index
Run Flat?
Overall Diameter
Load Range
Price
15"
175/65R15
84V
24.00"
-
185/55R15
82V
23.00"
-
195/50R15
82V
22.70"
-
195/55R15
85V
23.40"
-
205/50R15
86V
23.10"
-
16"
185/55R16
83V
24.00"
-
195/55R16
87V
24.40"
-
195/60R16
89V
25.20"
-
215/60R16
95V
26.10"
-
225/55R16
99V
25.70"
XL
235/60R16
100V
27.10"
-
245/50R16
97V
25.70"
-
18"
215/35R18
84V
23.90"
XL
215/55R18
95V
27.30"
-
245/55R18
103V
28.60"
-