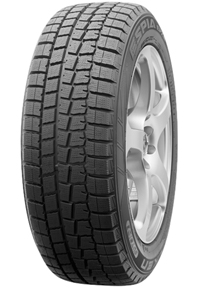 Falken Espia EPZ II
Key Features
Free replacement for up to two years or for the first 3/32nds of tread life*. (* Restrictions apply. Tire will be replaced free of charge. Mounting and balancing not included and you may be charged applicable taxes. The cost of valve stems and disposal fees. Available in US and Canada only.)
DEEP SNOW CAPABILITY
CONSISTENT CONTACT WITH THE ROAD
COMFORTABLE RIDE
CONFIDENT GRIP IN THE RAIN
Three Peak Mountain Snowflake Symbol
Wide lateral grooves work together with wide pockets built into the tire to allow more snow to pack into the tread, clearing the road surface quicker for increased snow traction in slushy or deep snow conditions.
Road Hazard Protection
High-density sipes move water and snow away from the tread surface for continuous road connection with over 13,000 millimeters in edges added from its predecessor.
Strategically designed rib placement with larger outer-edge block-style ribs provide a comfortable and stable drive while maneuvering the vehicle, no matter the road-surface condition.
Wide circumferential grooves channel water away from the tread for consistent contact with the road surface, increasing wet traction and driver confidence.
Vehicle Category: Passenger
Performance Category: Winter
Contact Us About This Tire
26 Available Sizes
Size
Load/Speed Index
Run Flat?
Overall Diameter
Load Range
Price
14"
175/65R14
86T
23.00"
XL
185/65R14
90T
23.50"
XL
15"
175/65R15
88T
24.00"
XL
185/60R15
88T
23.90"
XL
185/65R15
92T
24.50"
XL
195/60R15
92T
24.30"
XL
195/65R15
95T
25.00"
XL
205/65R15
99T
25.50"
XL
215/70R15
98T
27.10"
-
16"
205/55R16
94T
25.00"
XL
205/60R16
96T
25.80"
XL
205/65R16
95T
26.50"
-
215/55R16
97R
25.40"
XL
215/60R16
99T
26.30"
XL
215/65R16
98T
27.00"
-
225/60R16
102T
26.70"
XL
225/65R16
100T
27.50"
-
17"
215/50R17
95R
25.70"
XL
215/55R17
98T
26.50"
XL
225/45R17
94T
25.20"
XL
225/50R17
98T
26.10"
XL
225/55R17
101T
26.90"
XL
235/55R17
99T
27.30"
-
18"
225/40R18
92T
25.10"
XL
225/45R18
95T
26.10"
XL
235/50R18
101T
27.50"
XL