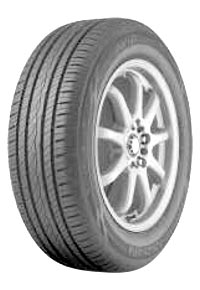 Yokohama AVID Ascend
Key Features
Long Tread Life
All-Season Traction
Fuel Efficiency
Handling
Quieter Ride
Optimized Tread Profile-reduces rolling resistance while promoting long tread life. Tread Block Bridges-reduce tread movement for more even tread wear and reduced noise. Orange Oil Compound-is our most durable high-performance compound ever.
Cross Grooves And Deep Circumferential Grooves-expedite water evacuation and provide exceptional bite for winter traction. Adaptive 3D Sipes-increase block rigidity for longer, more even wear, while promoting wet and winter traction.
Orange Oil Compound-has less rolling resistance than conventional compounds, saving fuel and money.
Tapered Center Rib-provides constant rubber-to-road contact to enhance straight-line tracking.
Multi-Pitch Tread Design-separates tread blocks into different sizes and shapes for a quiet ride.
Vehicle Category: Passenger
Performance Category: Touring All Season
Contact Us About This Tire
34 Available Sizes
Size
Load/Speed Index
Run Flat?
Overall Diameter
Load Range
Price
15"
175/65R15
84T
24.00"
-
185/60R15
84T
23.80"
-
185/65R15
86T
24.50"
-
195/60R15
87T
24.30"
-
195/65R15
91H
25.10"
-
195/65R15
89T
25.10"
-
205/65R15
92T
25.50"
-
205/70R15
95T
26.40"
-
215/70R15
98T
27.00"
-
16"
195/60R16
89H
25.30"
-
205/55R16
91H
24.90"
-
205/55R16
89T
25.00"
-
205/60R16
91T
25.70"
-
205/65R16
95H
26.50"
-
215/60R16
94T
26.10"
-
215/60R16
94V
26.10"
-
215/65R16
98H
27.10"
-
225/60R16
98H
26.70"
-
225/60R16
98T
26.70"
-
225/65R16
100H
27.50"
-
225/70R16
103H
28.40"
-
235/60R16
99T
27.10"
-
235/65R16
103H
28.00"
-
17"
215/55R17
93V
26.30"
-
215/60R17
95T
27.20"
-
215/65R17
98T
28.00"
-
225/55R17
95T
26.90"
-
225/60R17
98H
27.80"
-
225/65R17
102H
28.50"
-
235/60R17
103H
28.10"
XL
235/65R17
104H
29.10"
-
18"
215/55R18
94H
27.30"
-
235/55R18
100H
28.20"
-
235/60R18
107H
29.20"
XL